We are thrilled to offer downtown pet friendly Key West vacation rentals and amenities to our four-legged friends. Key West is a very dog-friendly city. View our list of the best dog friendly Key West restaurants or ask our concierge for more information.
For the more active dogs, check out the top rated Lazy Dog Adventures, where dogs and their human guardians can enjoy kayaking and swimming together!
Pet Policies
Advance reservations are required. A flat fee of $50 + tax for the first dog and $25 + tax for each additional dog is added to each reservation. There are no size restrictions at our pet friendly Key West vacation rentals, however a maximum of 3 dogs in each guest room is enforced.
A comfy dog bed may be available upon request. All pets must be leashed, housebroken, people-friendly, non-aggressive, and quiet. Dogs must be crated when left alone in the room. A large dog crate is available for a one-time fee of $10.
Excessive damages due to non-housebroken behavior will be charged to the credit card on file. We reserve the right to refuse service to guests with a disruptive dog with no refund on outstanding nights.
Our Local Key West Pets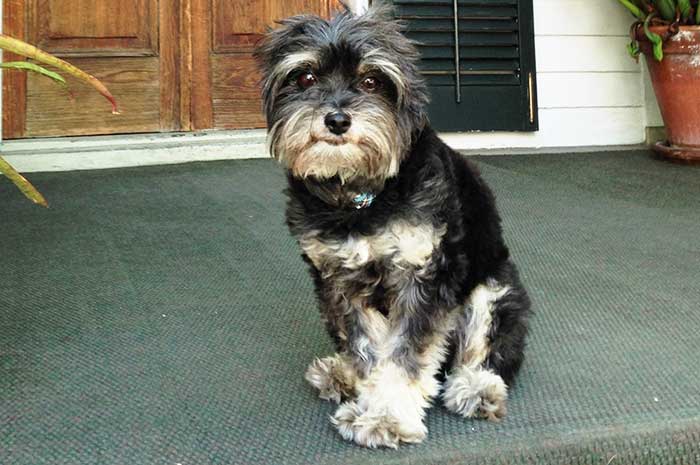 Mojo
Where were you born and how old are you? I was rescued by Alison and Haytham at the ripe age of 6. I'm not sure where I was born but my parents think it may have been Cuba because I still don't understand any English words. Sit? Shake? No entiendo, man.
What kind of dog are you? I am a Havanese. Eight furry pounds of pure muscle.
Favorite Restaurant in Key West? Green Parrot for the popcorn, Roostica for the cheesy pizza, Santiago's Bodega for the rice and beans.
What is your job title and description? Top Dog Concierge. You'll find me napping in the Old Town Manor lobby 40 hours a week!
Ms. Kitty
Where were you born and how old are you? It's a mystery. My staff at the hotel thought I was in my 20's, but a recent trip to the vet proved I'm much younger. Life on the outside keeps me young.
What kind of cat are you? A fierce, independent feline who appreciates the finer things in life - cat nip and head scratches.
Favorite Restaurant in Key West?  Six Toed Cat across from the Hemingway House sounds like my kind of place.
What is your job title and description? Security. No roosters shall dare trespass!